Testing, Vaccination, and Masking Guidelines
---
CLICK HERE to go back to the homepage
---
---
---
---
VACCINE INFORMATION
---
COVID vaccines are available at Lummi Tribal Health Center. You must have a chart at the clinic in order to get a vaccine. Please call the front desk at 360-384-0464 to schedule an appointment.
---
Every other Friday, LTHC collaborates with the Washington State Department of Health to organize vaccine clinics. These clinics are open to everyone. It is not required to have a chart at the clinic. Please see below for upcoming events.
---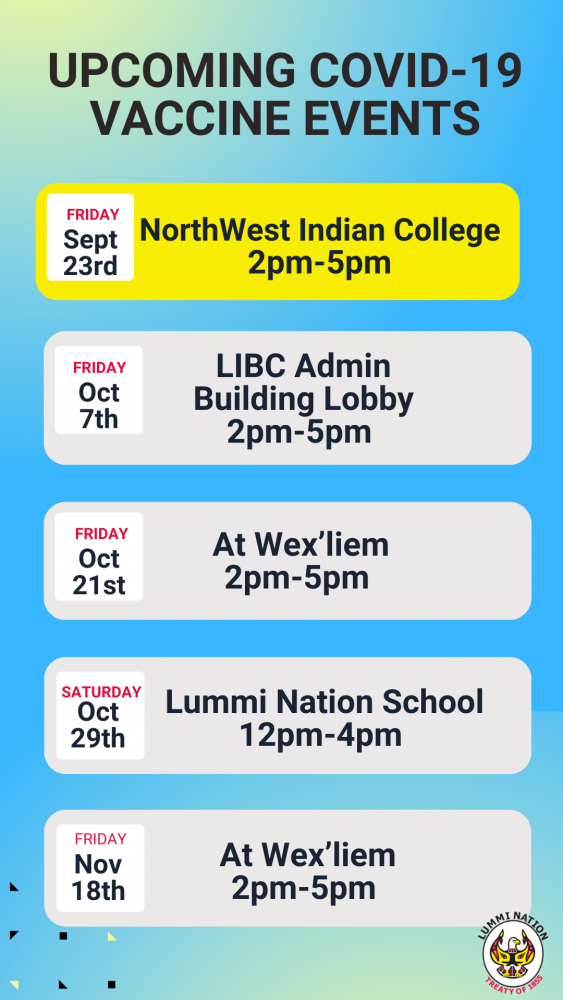 ---
---
AM I UP TO DATE ON VACCINATION?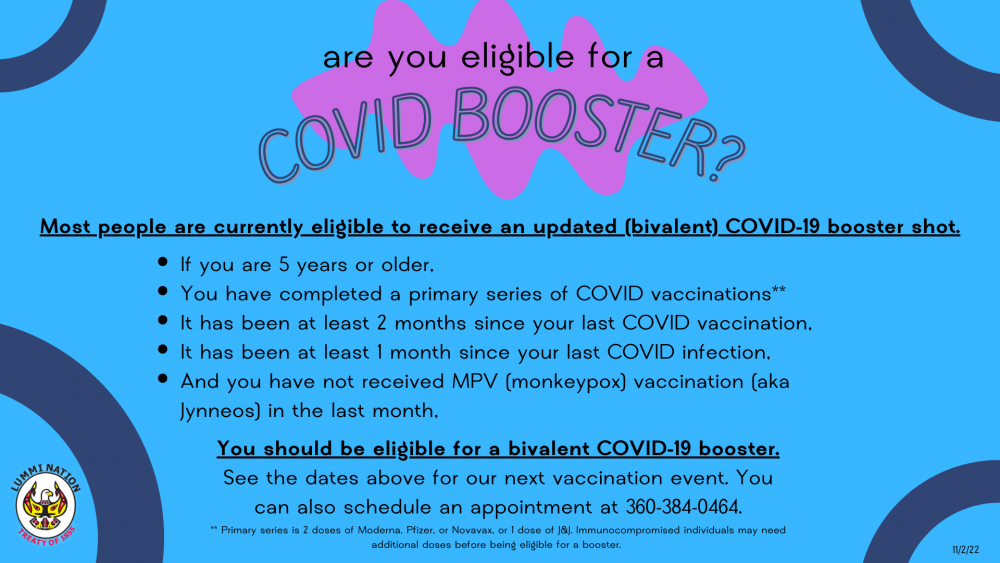 COVID-19 vaccines are recommended for everyone ages 6 months and up.
Moderately to severely immunocompromised individuals are advised to get more vaccines than other people - please discuss with your primary care provider
Pfizer boosters are approved for everyone ages 5-11, 5 months after their second vaccine dose (3 months if immunocompromised).
Everyone 12 and up is eligible to receive an updated Pfizer or Moderna booster, as long as at least 2 months have passed since the last time they had a COVID vaccine, they have not received an MPV (monkeypox) vaccine (aka Jynneos) in the last month, and it has been at least 1 month since they recovered from a COVID infection.
The CDC has developed a tool to help you determine if you are due for a booster. It can be found here.
---
COVID-19 TESTING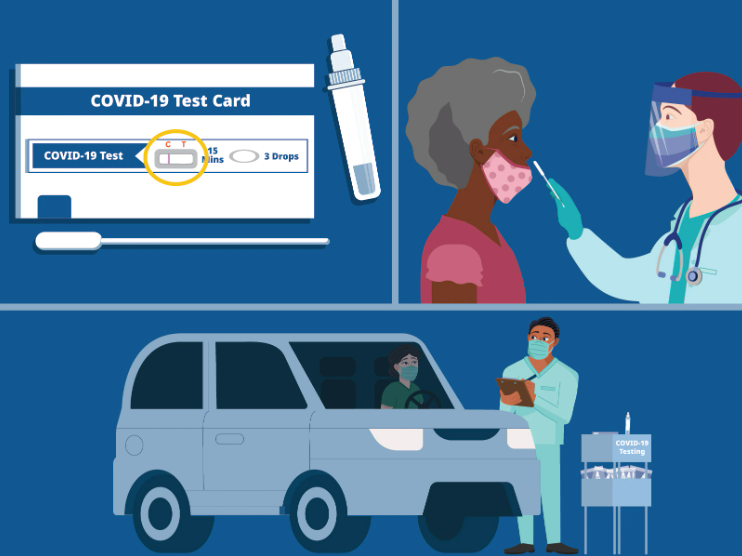 At Lummi Public Health we're noticing that it can sometimes take several days before an at home rapid COVID test is positive for people who are infected with the current type of COVID variant. If you are feeling sick with symptoms of COVID but have a negative test at home, please continue isolating and sign up for a PCR test at the drive-thru (either through MyChart or by calling 360-383-8251) OR take another rapid test every 24 hours until you start feeling better. If your symptoms are getting worse or you still aren't feeling better after 2 days, contact your doctor to get evaluated for other illnesses. This link has more information about "false negative" rapid COVID tests.
---
COVID-19 testing through Lummi Tribal Health Center
As of 3/22/22, LTHC is no longer using www.testdirectly.com for COVID-19 test scheduling. Patients can use MyChart to schedule their own COVID-19 test.
To make an appointment for COVID testing: Download the MyChart app and set up your account. Under appointments, choose 'COVID testing' and pick a time that works well for you. You will get your COVID test results in the app. Detailed instructions for MyChart signup are below. The LTHC front desk can provide additional assistance at 360-384-0464.
MyChart Sign Up
175.5KB
(2022) LTHC
---
---
---
---
MASK INFORMATION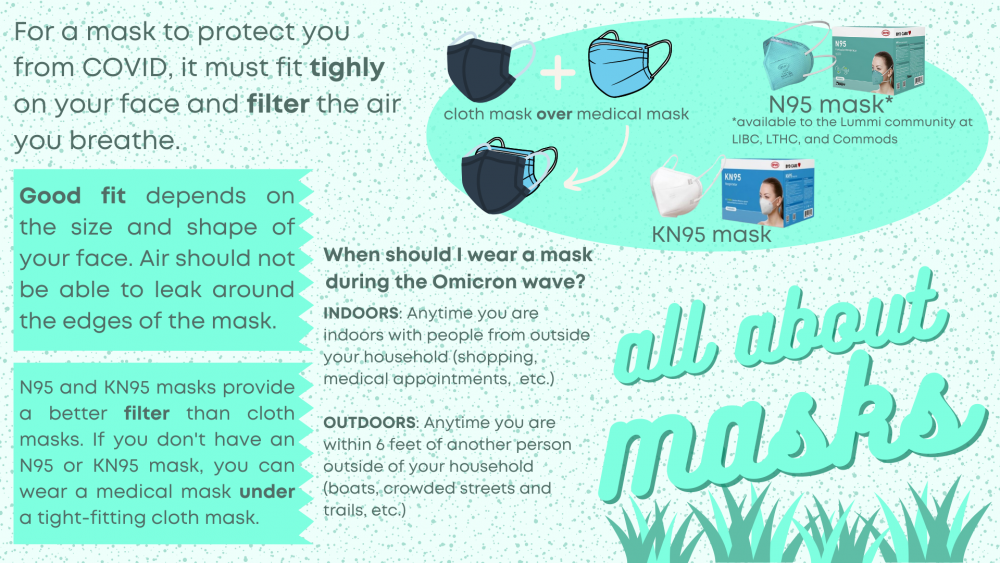 High-quality N95 and KN95 masks are available. Please ask at the COVID-19 testing drive through or call the clinic at 360-384-0464 to arrange pick up.
---
---
---
---
---
LIBC Policies and Guidelines
---
Learning to Live with COVID April 2022
389KB
(2022) LTHC/LIBC
April 2022 Quarantine Guidelines
444.3KB
(2022) LTHC
COVID Masking Policy Oct 22
143.1KB
(2022) Lummi Public Health
LIBC COVID Policy Workplace Addendum
214.7KB
(2021) LTHC
LIBC COVID Protocol for Funeral and Support Services
256.3KB
(2022) Funeral Support Services - LTHC - LIBC
---
How to get in touch with us:
If you have a MEDICAL concern

(for example, if you are reporting symptoms of COVID, need a refill of medication, or need to speak with a doctor), please call the main clinic number at 360-384-0464.
If you have an

urgent question after hours or on a holiday

, please call the on-call doctor at 360-715-2447.
If you have a

non-urgent public health question

, please email publichealth@lummi-nsn.gov
CLICK HERE for LIBC Emergency Numbers
---
---
---
Additional Resources
---
Working together to Preserve, Promote and Protect our Sche Lang en
---