Lummi Public Health Department Homepage
---
CLICK HERE for COVID-19 Quarantine and Isolation Guidelines

---
CLICK HERE for Testing, Vaccination, and Masking Guidelines
---
CLICK HERE for Monkeypox Virus (MPV)
---
CLICK HERE for Flu and RSV Information
---
---
---
---
Current Lummi Nation COVID-19 Risk Level
Week of 2/3/23 - 2/9/23: YELLOW
---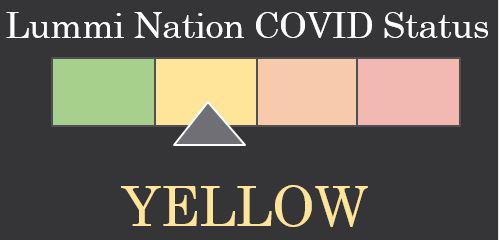 Per LIBC policy, yellow risk level means that masks are recommended in LIBC buildings and while on official LIBC business. Mask continue to be required for everyone in Lummi healthcare facilities, Early Learning staff, Little Bear staff, Lummi Transportation, Lummi Police vehicles while transporting clients, courtrooms, and any building or department with a recent outbreak.
The risk level is based on the collection of metrics highlighted in the table below. It is subject to change weekly.
---
Update 2/3/23: Lummi Public Health is seeing a surge in COVID cases over the past week. There are currently 84 active COVID cases, which is about 4 times the number of active cases we've seen over the past few months. If you are having symptoms, isolate and test. If your test is negative but you still have symptoms, avoid big gatherings, wear a mask around people who are at high risk of getting seriously sick, and test again after 24 hours since it can sometimes take a few days before tests become positive. If you are at high risk of getting seriously sick from COVID, consider wearing a mask in indoor public settings and avoid spending time with people who are sick. Finally, if you do test positive call the clinic to discuss treatment.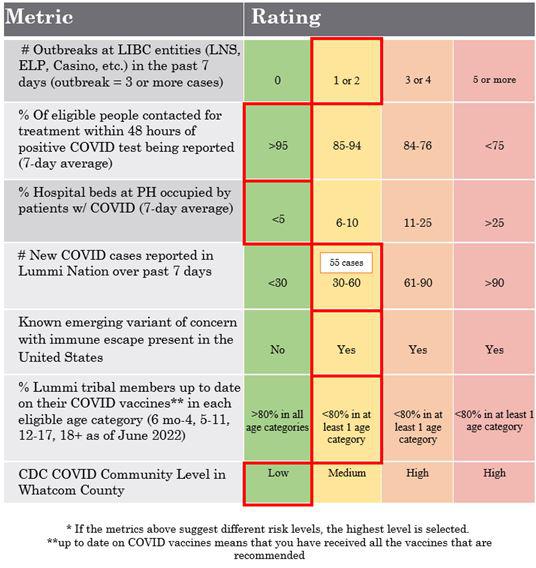 ---
As of 8/19/22, the metric related to the number of new COVID cases was changed to reflect a higher threshold for each risk level. This is in response to the reduced severity of cases due to available vaccines and treatments. All other metrics remain the same.
---
Working together to Preserve, Promote and Protect our Sche Lang en
---