Notice: This website uses javascript. If you are using a script blocking functionality in your browser you will be unable to use many of the tools on this site. Please whitelist lummi-nsn.gov if you wish to avail yourself of the full functionality of this site. For mapping-related functionality, you may also need to whitelist google.com




Lummi Public Health Department Homepage
---
CLICK HERE for COVID-19 Quarantine and Isolation Guidelines

---
CLICK HERE for Testing, Vaccination, and Masking Guidelines
---
CLICK HERE for Monkeypox Virus (MPV)
---
---
---
---
Current Lummi Nation COVID-19 Risk Level
Week of 9/23/22 - 9/29/22: YELLOW
---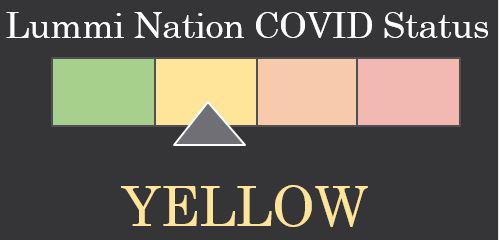 Per LIBC policy, orange risk level means that masks are required in LIBC buildings and while on official LIBC business. People with underlying medical problems and/or age 60+ are advised to avoid high risk activities and wear an N95 or KN95 mask indoors.
The risk level is based on the collection of metrics highlighted in the table below. It is subject to change weekly.
---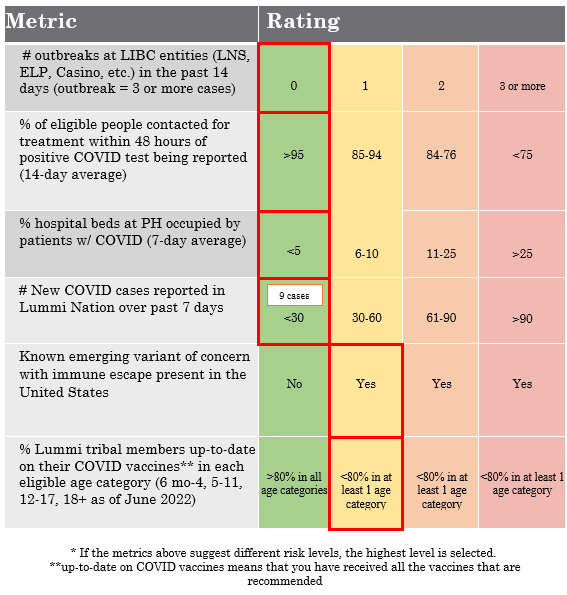 ---
As of 8/19/22, the metric related to the number of new COVID cases was changed to reflect a higher threshold for each risk level. This is in response to the reduced severity of cases due to available vaccines and treatments. All other metrics remain the same.
---
Working together to Preserve, Promote and Protect our Sche Lang en
---