Lummi Fitness Center (LFC)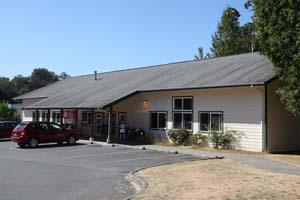 The Lummi Fitness Center Opened in March of 1999 with the goal of helping to improve community health & fitness through exercise by providing a comfortable, drug and alcohol free environment in a well equipped, convenient, professionally staffed facility. The Fitness Center has memberships available for both Tribal and Non-Tribal members. To help achieve its goal of helping to improve community health, the Fitness Center and LIBC Wellness Program have worked hard to eliminate out of pocket cost of membership for Lummi Tribal Members, other natives eligible for health service at the LTHC, and LIBC employees. The Fitness Center offers very reasonable membership rates for all others. Please call for details.
2600 Kwina Road, Bellingham, WA 98226
Main:
(360) 312-2174
Fax:
(360) 380-6986
CARDIO/WEIGHT ROOM
The Fitness Center offers a nice selection of cardio equipment in the Cardio/Weight room including: 6 treadmills, 6 ellipticals, 2 Recumbent Bikes, 1 Adaptive Motion Trainer, 1 Rowing Machine. If you want to incorporate more than cardio into your workout regimen, the Fitness Center offers a wide range of weight training equipment in the Cardio/Weight room including: dumbbells 30-100 lbs, 2 squat/bench/pull up racks, 1 assisted pull/up dip machine, Smith Machine, 3 Olympic Platforms, 3 Olympic Squat/Pull Up Cages, 6 benches (flat, decline, incline), 1 decline ab station, and lastly, 8 bars (4-45 lb bars, 2-35 lb women bars, 1 curl bar, 1 tricep bar) in which both Olympic bumper weights and metal plates for whichever you prefer.
AEROBICS ROOM
The Fitness Center offers a machine circuit that targets a full body. There are 11 Hoist machines that target various muscles in the body, you may choose to do the entire circuit for a full body workout OR use the machines individually. The Aerobic Room also offers a lightweight barbell set in which you can set the weight to your liking. The Aerobic Room also includes light weight dumbbells 5-25 lbs, medicine balls, kettle bells, jump ropes and bosu balls. Our canoe paddling machines and rowing machine are available in the Aerobic Room. For those who prefer to workout using an instructional DVD, we have a bluray/DVD and 42' flat screen TV, ask the attendant on duty for assistance.
CLASSES
The Fitness Center offers a HIIT Class (High Intensity Interval Training) that is set up all day for Fitness Center members. You may come in at any time and complete our workout during a time that is most convenient for you. If you have any questions on how to do the exercises, you may ask the attendant on duty or seek Anna Leigh or Reatha. The Fitness Center staff is happy to assist with any questions that you may have.
FITNESS TESTING & PERSONAL TRAINING
The Fitness Center offers personal training to Fitness Center members. If you are looking for one on one training sessions and meal planning assistance, please call or come by to make an appointment. Personal training appointments are limited to time available.
SHOWERS & SAUNA
The Fitness Center has lockers and showers available for member use. You may rent a lock and/or locker for the day or on a monthly basis. Shower towels are available as well for $1.00 and please seek attendant if you need a shower towel.
Sauna use is available for all Fitness Center members. Prior to entry into sauna, please make sure you have the Sauna Use Policy signed with the attendant. Sauna towels are available with the attendant.