Notice: This website uses javascript. If you are using a script blocking functionality in your browser you will be unable to use many of the tools on this site. Please whitelist lummi-nsn.gov if you wish to avail yourself of the full functionality of this site. For mapping-related functionality, you may also need to whitelist google.com




Salmon Management
Nooksack Chum Harvest and Spawning Escapement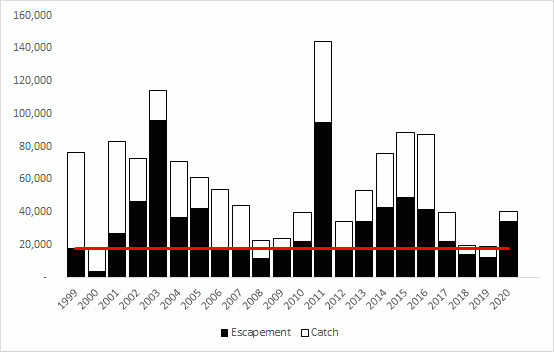 The figure above shows the historic catch (white) and spawning escapement (black) of Nooksack Chum for the years 1999 through 2020. The red line shows the spawning escapement goal (18,000 Chum). For years when the black bar (escapement) doesn't extend above the red line, this means escapement goal was not reached. Spawning escapement was not reached in 2 of the last 3 years (2018 and 2019). If the spawning escapement goal is not reached, due to environmental conditions or to catch being too high, it can lead to low returns in future years and limit harvest opportunity.
The 2021 forecast return of wild Nooksack chum is only 17,580 fish. Because the forecast is less than the spawning escapement goal, the fishing schedule has been reduced from the normal 4pm Sunday to 4pm Wednesday fishing schedule. If information from harvests, test fishing or spawning ground surveys suggest the return is larger than expected, and the spawning escapement goal will be reached, then additional fishing time will be scheduled. Stay tuned for more information.

Gooseberry Tides

Disclaimer: The official Tide and Tidal Current prediction tables are published annually on October 1, for the following calendar year. Tide and Tidal Current predictions generated prior to the publishing date of the official tables are subject to change. The enclosed data are based upon the latest information available as of the date of your request. Tide and Tidal Current predictions generated may differ from the official predictions if information for the station requested has been updated since the publishing date of the official tables. For more information visit NOAA/COOPS website
Available Documents
There are no documents currently available in the Salmon Management portion of the website.