Skookum Edfro Phase 3
Community Workshop #1 Presentation
12.6MB
(2023) Alex Levell/Melanie Del Rosario
Community Workshop #1 Meeting Minutes
368.7KB
(2023) Melanie Del Rosario/Alex Levell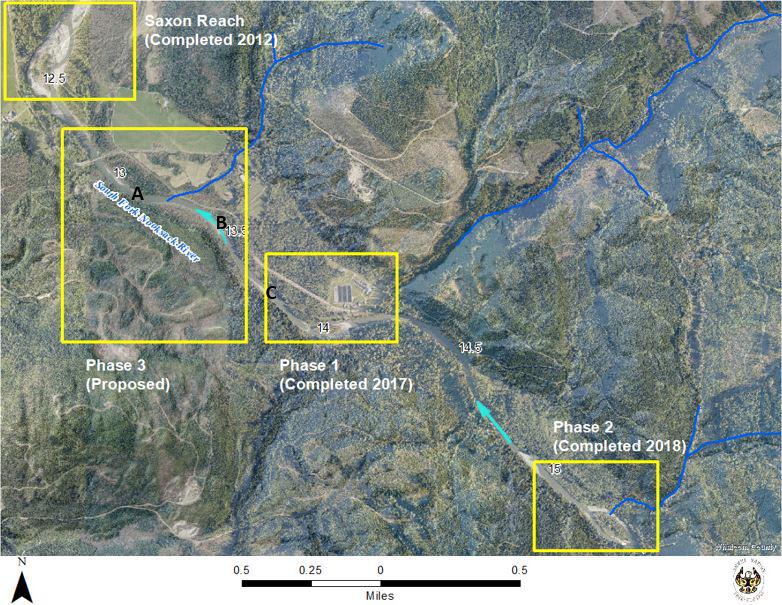 The overall goal for this project is to engage stakeholders in developing a design concept that restores salmon spawning, rearing, and holding habitat in the South Fork Nooksack River from river mile 12.8 to 13.9. This design should result in self-sustaining salmon runs at harvestable levels, and increased flows in the channel and available floodplain to reduce flooding to downstream properties.
Flood Risk
Results of a recent Climate Impacts Risk Assessment show that there will be more frequent and intense floods in the future. The recent flooding throughout Whatcom County highlights the need to reduce flood risk for properties in flood prone areas.
South Fork Nooksack River at river mile 13.15 looking downstream. The project reach is low-gradient with high quality chinook salmon spawning, rearing, and holding habitat potential. Location A on map.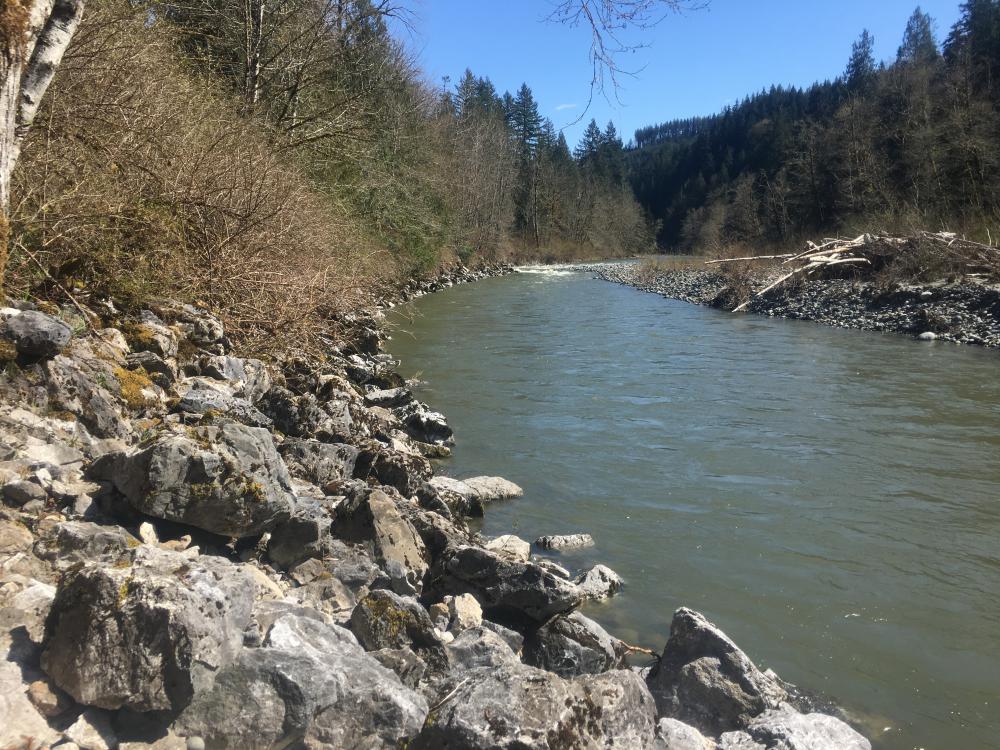 ---
Chinook Salmon
Fact sheet of 2021 Chinook Mortality Event
909.3KB
(2022) Lummi Nation
The South Fork Nooksack River is home to three species that are listed as threatened on the Endangered Species List: chinook, steelhead, and bull trout. Habitat degradation is the leading cause for the decline of WRIA 1 (Nooksack Watershed) salmonid populations (WRIA 1 2005). A recent die-off of over 2,500 South Fork Nooksack early Chinook in September 2021 illustrates the severity of the habitat problems that are now being exacerbated by climate change. Most of the mortalities occurred in the project reach (LNR 2021), highlighting the need for habitat restoration. The photo below was showcased on a 60 Minutes segment (the Vanishing Wild) that aired on January 1, 2023 (0:30 to 3:00 at https://www.youtube.com/watch?v=6TqhcZsxrPA or 15:15 to 18:05 at https://www.cbsnews.com/video/60minutes-2023-01-01/#x)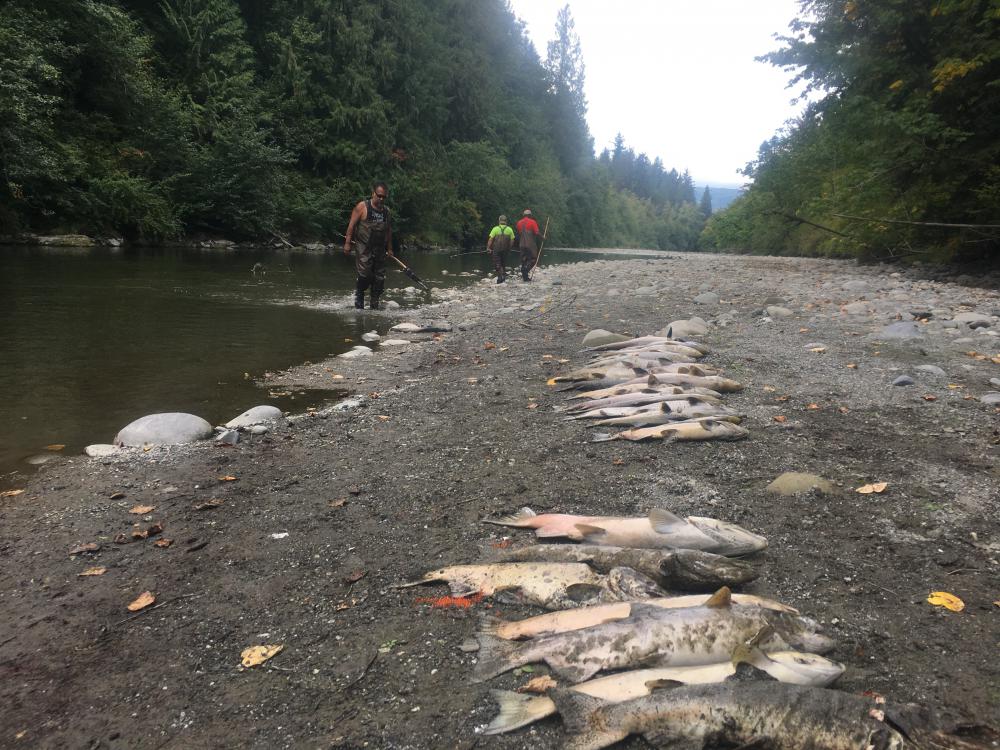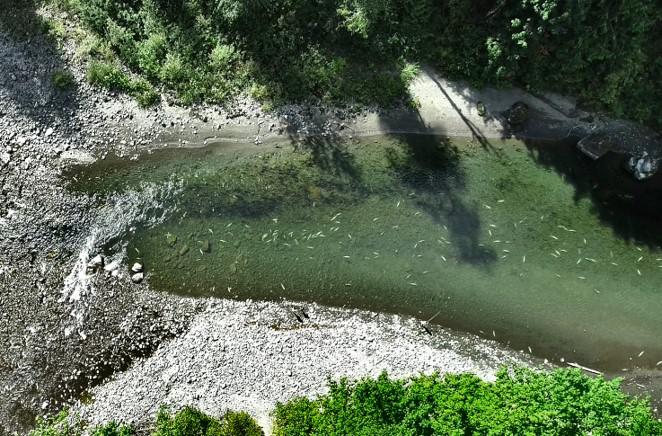 Update 2022: Lummi Nation Response to Chinook Mortality Event

Community Engagement
The project team is deeply committed to working with and engaging stakeholders through the duration of this project.
Engagement opportunities include:
Participation in Acme-VanZandt Subzone - LNR and Veda introduced the project at the January 19th, 2022 meeting.
Frequent communications provided via a Listserv and updates to this website,
presentations and in-person meetings with landowners, stakeholders, and established forums,
Two stakeholder meetings to share results of technical work and gather input from community members,
Community workshop #1 was held on November 15, 2022, at the Acme Presbyterian Church from 5:30 to 7:30 pm. Meeting notes and the presentation links at the top of this page. The team introduced existing conditions and solicit feedback to select the preferred alternative. We were excited to see the interest that the attendants had in this project. Many of the community member's requests are currently being addressed are also linked above, including Lummi Nation response to the mortality event.

Other group and individual meetings. The team has met individually with one landowner and will continue to do so per request.
Letter to Subzone
415.2KB
(2021) Alex Levell/Melanie Del Rosario
Stakeholders will have opportunities to weigh in on various topics, including but not limited to:
the scope and scale of the problems the project is intended to address,
prioritization approach and criteria for design alternatives, and
the preferred design alternative.
FUNDERS
Washington State Recreation and Conservation Office - Salmon Recovery Funding Board (SRFB)
Whatcom County PUD
Northwest Indian Fisheries Commission
PARTNERS/SPONSORS
Lummi Nation, supported by Herrera Environmental Consultants and Triangle Associates
Salmon Recovery Staff Team
Nooksack Watershed Staff Team
Whatcom County Public Works
Whatcom Land Trust
For more information, please contact Alex Levell: alexl@lummi-nsn.gov
Salmon Recovery Funding Board Grant Proposal
647.7KB
(2021) Kelley Turner/Alex Levell/Alissa Ferrell
Upper South Fork Nooksack River Effectiveness Monitoring Report