Official Website of the
Lummi Indian Business Council
**Shelter in Place order is currently in affect for the Lummi Reservation Due to the Spread of COVID-19***
---
We are the Lhaq'temish, The Lummi People. We are the original inhabitants of Washington's northernmost coast and southern British Columbia. For thousands of years, we worked, struggled and celebrated life on the shores and waters of Puget Sound.

We are fishers, hunters, gatherers, and harvesters of nature's abundance. We envision our homeland as a place where we enjoy an abundant, safe, and healthy life in mind, body, society, environment, space, time and spirituality; where all are encouraged to succeed and none are left behind.
---
Featured Departments

---
Community Update March 22, 2020
204.9KB
(2020) LIBC
Shelter In Place Order March 22, 2020
247.5KB
(2020) LIBc
Shelter In Place Flier FINAL
170.8KB
(2020) LIBC
NOTICE Lummi Nation Schools to close March 13, 2020 to April 24, 2020 due to COVID-19
---

Important Information on Coronavirus (COVID19)

Lummi Nation Emergency Numbers in event of closure CLICK HERE
---
---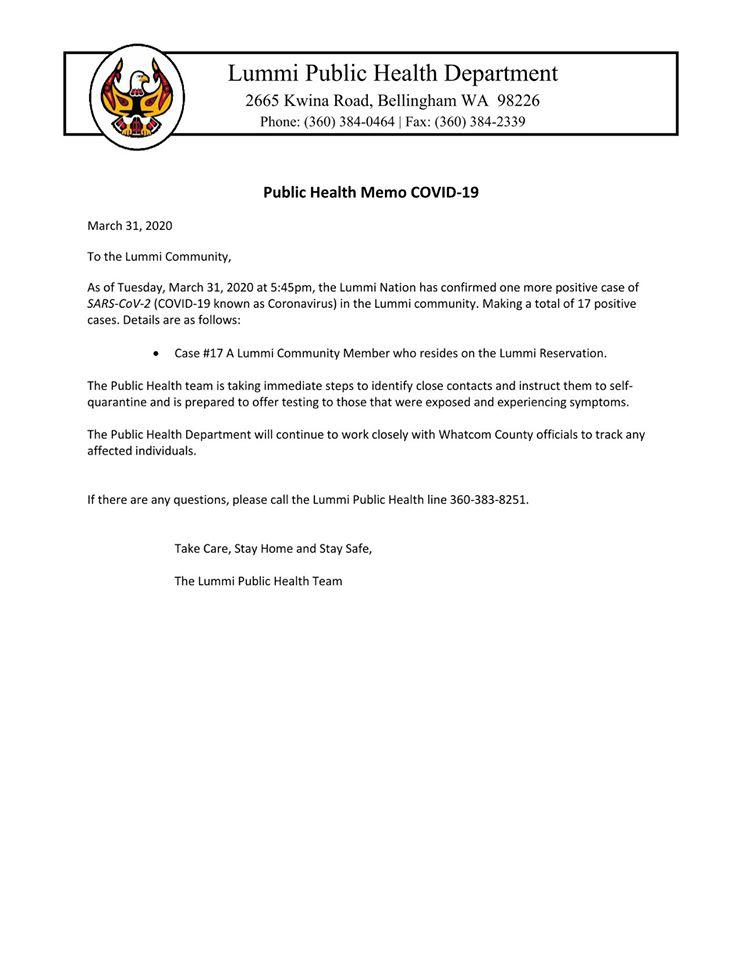 ---
PRESS RELEASE March 13, 2020
Notice of Potential Public Exposure to COVID19Lummi Public Health Department and Whatcom County Health Department are investigating the potential exposure for Lummi Nation and Whatcom County residents. Individuals who are identified as having close contact with the known case will be communicated with directly and provided with supportive information and direction on how to protect their health and that of the wider community.
For people who were at the Silver Reef Casino buffet on March 10, 2020, and have concerns about their individual circumstances they are invited to contact the Whatcom County Public Health Department at 360-778-6100 or Lummi Public Health Department at 360-383-8251.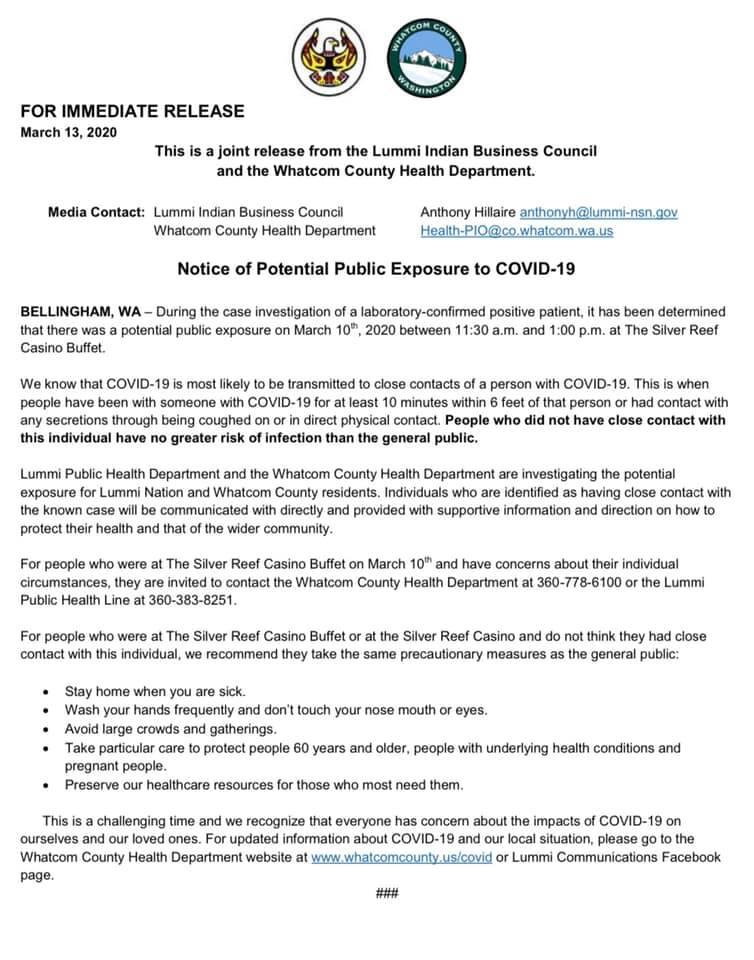 To connect with a medical provider after hours please call
(360)715-2447
For Urgent Care we recommend the following:
Walk-in Health Clinic
2220 Cornwall Ave.
Bellingham, WA 98225
360-734-2330
PeaceHealth same day clinic:
Medical Office Plaza (clock tower building)
3015 Squalicum Parkway
Bellingham, WA 98225
360-788-8420
---
Lummi Tribal Health Center COVID-19 PUBLIC HEALTH RECOMMENDATIONS
Last updated March 7th, 2020
BACKGROUNDThe Coronavirus (COVID-19) appears to be slowly making its way into communities across the United States. At this time, in Washington State there have been a total of 79 positive cases and 11 deaths related to the Coronavirus.The Lummi Tribal Health Clinic (LTHC) and Lummi Public Health Department have been actively preparing and monitoring for COVID-19. It appears we are reaching a point where COVID-19 will be posing a threat to the Lummi Community. The medical community is now moving from a "CONTAINMENT" strategy to a "MITIGATION" strategy as COVID-19 has now escaped into the public community of WA State.MITIGATION STRATEGY
RECOMMENDATIONS In order to reduce the overall risk that COVID-19 poses to the Lummi Community, we will focus on multipronged effort to reduce exposure and transmission of the virus within our community. Therefore, LTHC and Public Health Department are STRONGLY RECOMMENDING the following protocols or policies:
1. PUBLIC GATHERINGS
a. All LIBC sponsored Public Gatherings should be cancelled or postponed to a later date b. All Business sponsored events (Concerts, business meetings, recreation) should be cancelled to a later date
2. LUMMI NATION SCHOOL CLOSURE
a. Begin planning for school closure if COVID-19 reaches our community ("Plan for the worse, hope for the best")
For more information regarding what LIBC is doing to protect our community --click here--
---
Declaration of Public Health Emergency - Lummi Nation - Chairman Lawrence Solomon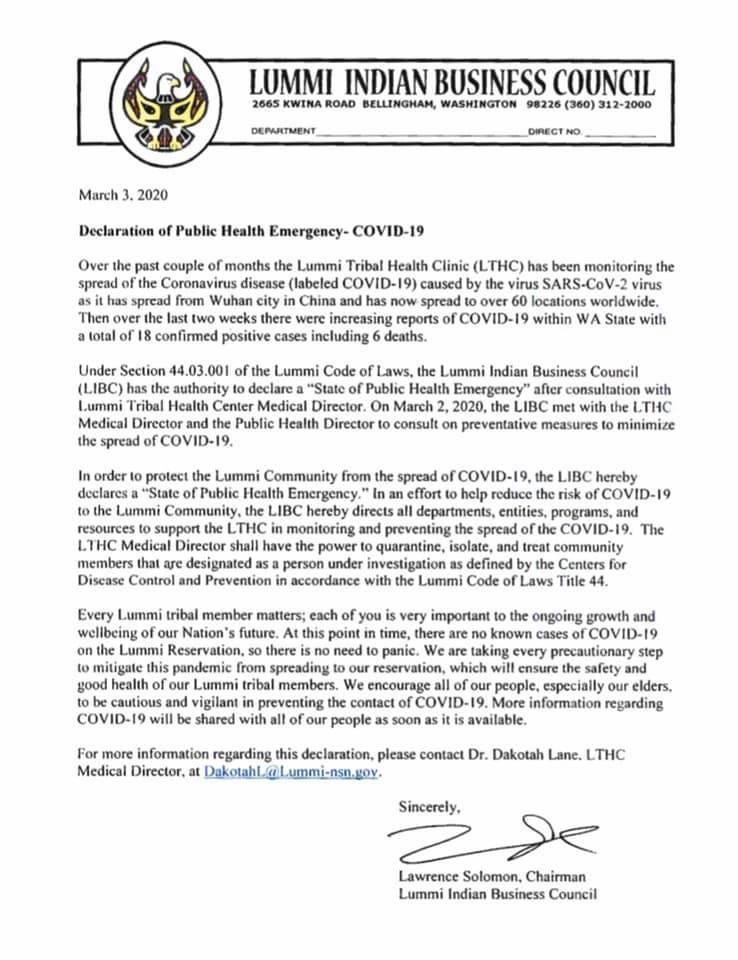 ---
MDLive for LIBC Benefited Employees:

MDLive Signup Instructions
566.3KB
(2019) LIBC
---
---
For questions about, or tax-deductible donations to, Lummi Nation's work for the Salish Sea and qwe 'lhol mechen (orcas), please visit www.sacredsea.org. For additional information contact Kurt Russo at (360) 312-2292 or email KurtR@lummi-nsn.gov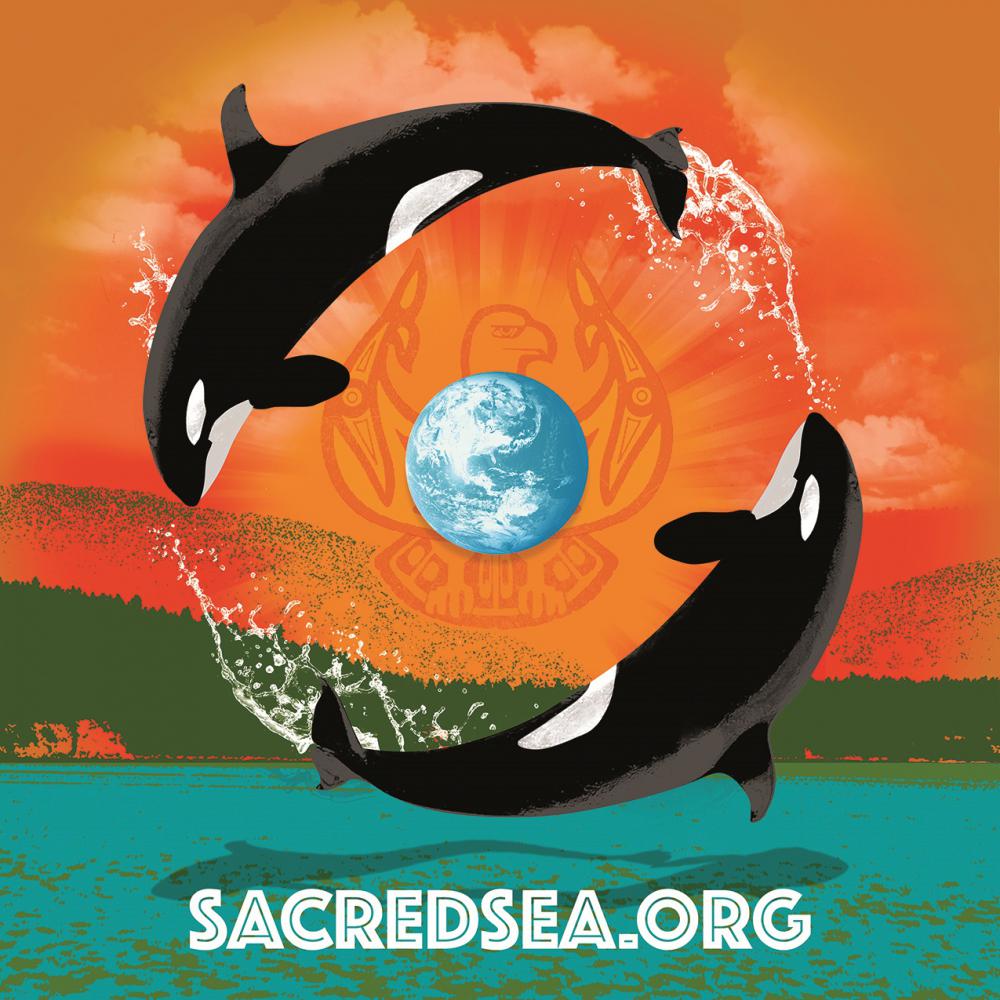 ---
---
Current RFPs.

---
Procurement Policy
175.9KB
(2015) LIBC
---
---
Additional info about LIBC

Note the Search Box at the top right hand corner of the screen. This can be very helpful in finding your desired resources.

---
LIBC Policy Org Chart
6.1MB
(2018) LIBC
LIBC Administration Org Chart
13.4KB
(2019) LIBC
---
---
Help Desk Request Form

Click here to submit a Help Desk Request